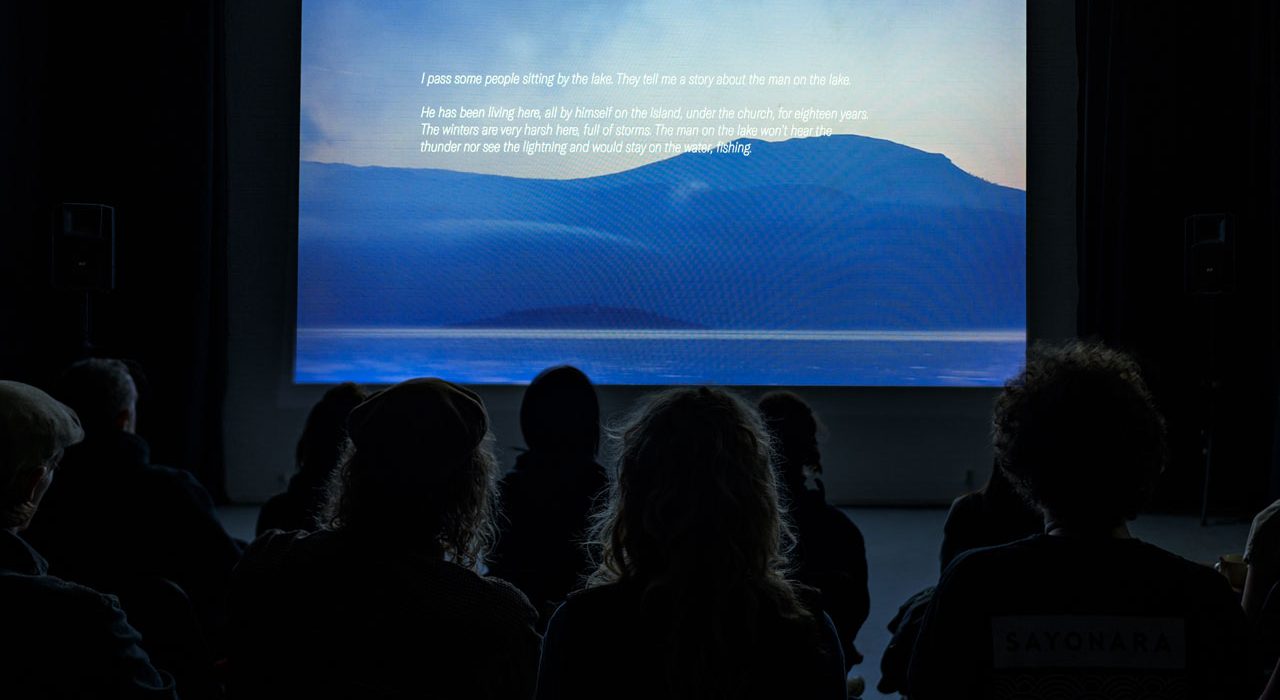 Matters of Being #8 – Approaching Distances
25/09/2022
14:30-17:30
iii workspace, The Hague
Entrance: Sliding scale €5-€10
Tickets HERE
Matters of Being is a screening series at iii curated by Nele Brökelmann. The series presents documentary films about artists, thinkers, scientists, and experimental films by artists and independent filmmakers. Matters of Being allows our minds to wander and stumble upon new associations in the illuminating darkness of the cinema setting.
Where lie the distances in each of our individual experiences of the world and can we approach them without eliminating them? The two works in this eighth edition are exploring the fine line of giving space to their subject by challenging their medium to be a carrier of different voices. Bellavance's work will be presented as an installation, while Pavlović's documentary is traditionally screened. The works contrast each other in form and subject, but both challenge the viewer to give space to aspects of modes of existence they cannot know.
During the concluding conversation of the event we will explore becoming other and the blurry parameters of individual experiences through building an affinity with one another and considering the parallelism of the past, the present and the future.
14:30 ốps (2022), Alexis Bellavance
15:00 Welcome by Nele Brökelmann
15:30 Looking for Horses (2021), Stefan Pavlović
17:00 Conversation with Stefan Pavlović and Alexis Bellavance
Looking for Horses
'Looking for Horses' is a film about a friendship between the filmmaker and a fisherman, who lost his hearing during the Bosnian civil war and retreated to a lake to live in solitude. The filmmaker, son of Bosnian parents, struggles to communicate as he lost his mother tongue due to a stutter. Despite their speech and hearing limitations, a bond develops between the young man and the veteran as they try to find ways to communicate through the camera.
Stefan Pavlović
Stefan Pavlović (1989, NL) is a documentary filmmaker. He received his bachelor's degree in film directing at the Art Center College of Design in Los Angeles. Several years later he would move to Amsterdam for his master's degree in Artistic Research in and through cinema. It was here, and under the title from filming intimacy to filming intimately, where Stefan challenged the use of camera and wondered about how to use the camera to speak through, instead of using it to speak about something. Cinema, and more so filmmaking itself, is a way to have a conversation, to look, to speak, to listen, it is not merely a way to capture and run away with something that might be observed at that moment; it is a way to have moments and create moments. Through his history of stuttering, he became interested in the miscommunications, the hesitations, the doubts, the inarticulations in our languages. His first feature film Looking for Horses arose from this research. After traveling for an entire year with the film, he is currently in the development of a short essay film in collaboration with his sister, Temra Pavlović, and has started writing his next film.
ốps
In his most recent work ốps, Bellavance worked in two phases. The first phase consisted in anchoring at sea a buoy to which was attached a hermetic box containing a set of microphones, batteries and a camera. This autonomous AV collection system recorded the sea horizon and the sounds of the waves for a specific period of time in multiple locations. Once the data was collected, it was used as the basis for creating an immersive installation, the second phase of the project.
During his iii residency, Bellavance will turn the ốps gaze towards the shoreline and film it to create a trucking shot of several hours. Having in mind the songs VI, VIII and XIII of Homer's Odyssey referring to the vision of Ulysses on his arrival in the archipelago of the Phaeacians; Scheria, a mysterious land, a parallel and unknown world, which could only be reached in a dream. He will try to render in images what Ulysses may have experienced when he observed these impossible lands for the first time.
Alexis Bellavance
Alexis Bellavance (1976, Québec, CA) is a multidisciplinary artist. His works, sometimes noisy, sometimes silent, are very concrete observations of his surroundings. Cycles, positions, laws, echoes, matter, become the segments of a conceptual scaffolding work that leads him to different disciplines: installation, audio art, photography, performance. The works he creates are all empirical results that emerge from his attention to reality and some of its accidents.
This program is supported by the Municipality of The Hague and the Creative Industries Fund NL
25 September 2022
iii Workspace
The Hague