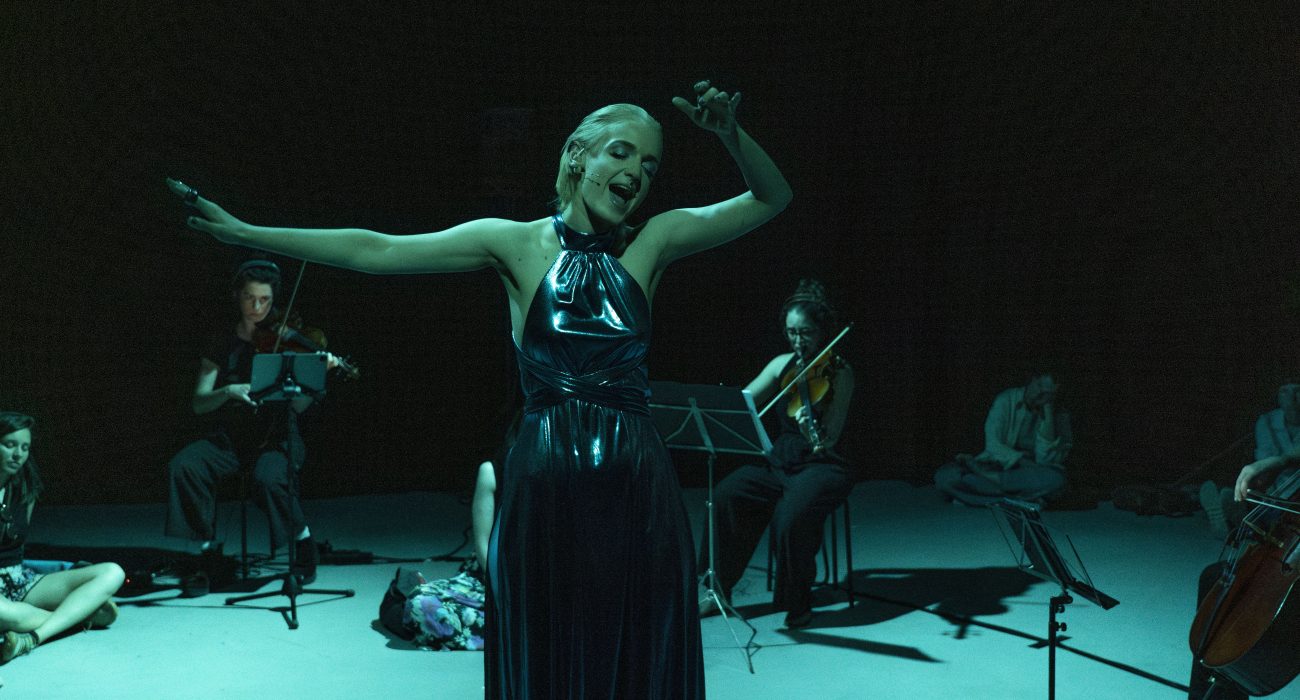 Flipchart #9 – Augmenting the Body
This Flipchart episode shows a trajectory of body augmentations in our current times. How can wearables transform and influence our performative selves? Starting with the choreographer and dancer Kenzo Kusuda, who aims to communicate and engage with the audience's imagination. The next performance is Cosmic Bride from Natalia Kharetskaya, who will perform with a movement-based control system, which alters the sounds of a string quartet and her voice. Myriam Bleau, will present her residency outcome to round off the evening.
Kenzo Kusuda
choreographer / dancer / music theatre director
Amsterdam-based Japanese choreographer / dancer Kenzo Kusuda is a unique phenomenon in the world of dance. He reveals the poetry of the dancing body in a personal and often breathtakingly intense manner. Kusuda takes the audience to a world filled with imagination. His work is possessed of a mystic beauty that lies beyond the perception of our physical senses. Simply with the body's movement on an almost empty stage, he is able to reveal that which is the invisible.
Natalia Kharetskaya
composer and vocalist
Cosmic Bride is an artistic act, developed by Natalia Kharetskaya who is a vocalist, composer and producer born in Lithuania and currently living in Rotterdam. The choice of the stage name was inspired by a quote of the world-famous composer Igor Stravinsky: "Music is the Bride of the Cosmos". This name is a tribute to both Lithuania and an artistic concept, which explores artistic heritage and the idea of space as a persona. Natalia's fascination with immersive music experiences came after discovering spatial audio – many composers have been dreaming of the possibilities, which immersive audio technology can offer today. As an artist she is excited to be exploring the potential of this technology and the future of spatial music.
Myriam Bleau & Nien Tzu Weng
composer, digital artist and performer & dance artist and lighting designer
Both artists are based in Montreal and are iii artists in residence working on the project Second Self. In this project, the artists have created LED touchscreens of custom shapes to be worn on different places of the body: the face, the hands, the chest. These interfaces evoke masks, cellphones, prosthetic devices that either augment or obstruct, allowing the artists to explore the theme of the feminist cyborg, different communication systems including sign language and the notion of the mirror and the gaze relating to online experiences.
Curated by Leon Lapa Pereira
A cross-disciplinary performance researcher who develops experienceable ecologies between humans and more-than-humans. Through anthropomorphizing; methods, relational worlds and biological processes are translated into movement, robotic agents and performances.
Flipchart is presented by iii with financial support from Creative Industries Fund NL and The Municipality of The Hague.
17 June 2023
iii Workspace
The Hague