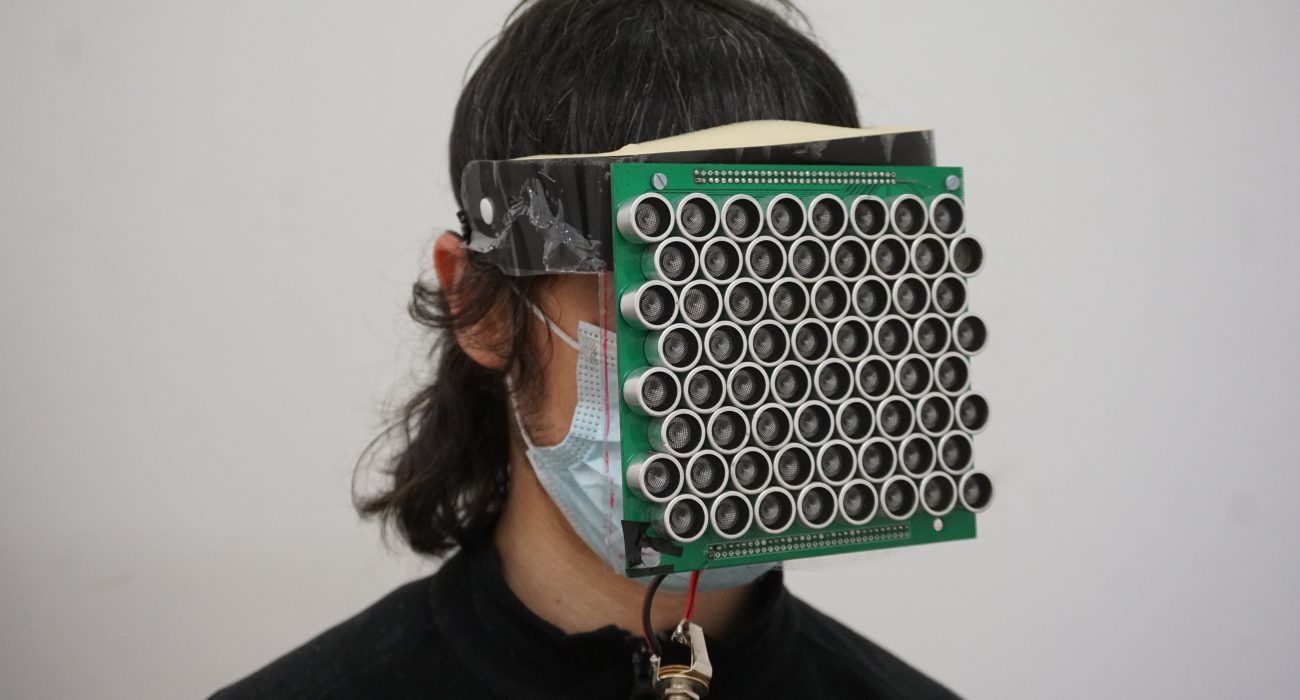 No Patent Pending #43
In the post-industrial site of De Nijverheid a meeting of human bodies, found objects and electronic circuits give rise to roaming sonic phantoms. Maria Komorova's 555 bugs inhabit an old garage box like a small colony of insects made of electronic waste and tin cans. Out in the open the air comes alive with unusual sounds: BMB con. perform with audio feedback by physically manipulating microphones; Adomas Palekas and Greta Galiauskaite extend their bodies to sense electromagnetic noise; Amos Peled turns himself into a cyborg scanning the surrounding architecture with ultrasounds.
This program is curated by iii for Gaudeamus Festival 2022.
Program schedule:
13:00 – 18:00, De Nijverheid: installation 555 Bugs by Maria Komarova
14:00 – 14:45, Het Hof van Cartesius: performances BMB con., Adomas Palekas and Greta Galiauskaitė
15:00, De Nijverheid: performance Amos Peled
Program details:
555 bugs is a performative installation in which Maria Komarova creates a landscape out of found objects and diy electro-acoustic instruments. In it, elementary materials find new meanings in spontaneous connections between each other. They interact, move, resonate and produce tiny sounds: rustling, crunching, squeaking, cracking. Daily objects become something else, specific sonic creatures with their own qualities. The seeming primitivity and repetitiveness of the soundscape brings the listener into a world of menthol buzzers, one-eye sirens, lemon tadpoles, ginger tigers, plastic bugs and other insects.
Maria Komarova is an interdisciplinary artist originally from Belarus, who engages in the fields of postdramatic theatre, scenography, sound and visual arts. She focuses her artistic practice on the exploration of the agency of objects, matters, various inanimate entities and discovery of ways of their interaction. Often, she works with the principle of rethinking primary functions of things and misuse of technologies. Maria is one of founders of theatre group PYL, International Festival of Performative Art – Performensk and a music band kaine anung.
555 Bugs is co-production of OVERTOON with support of Flanders State of the Art.
For the last 30-odd years, BMB con. have been performing a balancing act between music and noise, sound and vision, indoors and out, digital and analogue, performer and audience.Founded by Roelf Toxopeus, Justin Bennett and Wikke 't Hooft in 1989, since  2006 BMB con. consists of a core duo working together with a changing group of invited artists / performers. They incorporate electronic and acoustic music, film, video and physical theatre in their performances and installations. As well as these fleeting, often unique actions, BMB con. make and publish audio CD's, cassettes, videos and photography.
As of 2019 BMB con. operates with support from the Mondriaan Fund.
Antennae – Adomas Palekas and Greta Galiauskaitė
Antennae – a sonic performance by Adomas Palekas and Greta Galiauskaitė. Departing from acoustic sonorities, the performers delve into the realm of anthropogenic electromagnetic fields and explore antennaed communication between living bodies and man-made devices and infrastructures.
Adomas Palekas (Vilnius,LT) – sound artist, electronical engineer and biotechnologist working at the intersection of science and art. Currently, his main focus falls on sonifications – sonic embodiment of processes, objects or even chemical reactions, that often have little connection with music or sound. Adomas's works and collaborations were presented in Lithuania, Italy, Belgium as well as international festivals such as "Ars Electronica", "ŪMĖDĖ", "Sirenos", Venice Architecture Biennale.
Greta Galiauskaitė is an interdisciplinary artist from Vilnius, Lithuania. Her creative approach is rooted in the practice of collecting artefacts and errors, either physical, digital or spiritual. Her works traverse different mediums, such as moving image, sound, clay or metal. Greta's projects have been presented at "The Eye museum", "Ars Electronica: Garden Vilnius", "ŪMĖDĖ" x-disciplinary symposium.
Ultra-Sonic-Face – Amos Peled
Ultra-Sonic-Face is a performance piece in which the speaker is worn on the face by the performer as a mask, cultivating a new sense of space based on auditory perception. The unique qualities of the performance, using the ultrasonic speaker technology, separate the sound source and the sound which circumvents our familiarity with natural laws and allows the audience to soak in doubt.
Amos Peled (b. 1997, based in NL) is a multidisciplinary artist, focusing on experimental technologies, audiovisual installations, performance art and noise music. During the last two years, Peled conducted his master's research at ArtScience interfaculty, a joint program between KC and KABK in The Hague.
10 September 2022
Gaudeamus Festival 2022
De Nijverheid and Het Hof van Cartesius, Utrecht